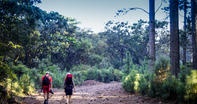 © Jacques Marais
Tzaneen is a peaceful agricultural town located in the Mopani district of the Limpopo province. Known for its abundant fruit farms in the region, Tzaneen is definitely a town worth exploring. Tzaneen is often overlooked by tourists, who drive through the town en-route to the Kruger Park. However, Tzaneen offers relaxing stop with beautiful spots worth visiting and exploring.
Tzaneen lies at the foot of the mighty Drakensberg Mountains and is surrounded by delightful forests home to a wealth of birdlife. The beautiful sub-tropical climate also means that the weather in the town is warm and pleasant all year round.
The many exotic fruit farms around the town mean that fresh produce is available daily at the many little cafes and restaurants. It might be worth your time to stop over for a refreshing lunch or brunch!
The rich forests also have amazing biking trails and various outdoor activities around the mountains and valleys. Discover something new today in the beautiful town of Tzaneen. See Tzaneen Hotels in Limpopo.
Kings Walden Garden Manor is a romantic retreat near Tzaneen in Limpopo, where you can explore many of the areas attractions. Relax in the romantic gardens and relish the beautiful views...
more
This country hotel in Limpopo has 560 hectares, 15 of which are landscaped gardens. The estate views include the valley and the Drakensberg Mountains...
more