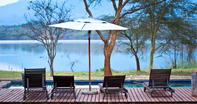 Louis Trichardt, also known as Makhado, lies in the Vhembe region in the Limpopo province of South Africa. This quiet town was once a prime sporting area for ivory hunters and one of the early towns of the European settlers. It was later taken over by the Vendan Chief Makhado. This has made Louis Trichardt a town imbued in rich history with many museums and exhibits to visit.
Louis Trichardt lies along the beautiful Soutpansberg Mountain Range, making the area abundant with wildlife. Louis Trichardt also lies between Zimbabwe and the famous Kruger National Park, making it an ideal base to explore the region. Louis Trichardt is surrounded by numerous private game reserves, which are home to some amazing wildlife species.
The Soutpansberg Mountains are not only beautiful but offer many great outdoor activities such as hiking, biking, birding. You can also enjoy an array of water sports at the Albasini Dam. The fertile soil also makes Louis Trichardt a great farming area offering farm fresh produce. Enjoy a relaxing stay filled with rich history and amazing natural biodiversity. View Louis Trichardt Hotels.
Leshiba Mountain Retreats is a hidden gem on top of the Soutpansberg Mountains, 36km west of Louis Trichardt, Limpopo. Escape to a secluded mountain top retreat....
more