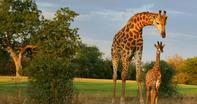 Phalaborwa in Limpopo, South Africa is known as the gateway to the infamous Kruger National Park and is also known for being the town of 2 summers. The sub-tropical climate ensures the weather is always ideal for a day outdoors in the great African wild. Phalaborwa is popular as an accommodation town, with its easy access to all the great nearby attractions and relaxing atmosphere. Your nearest game reserve or adventure is never far off from Phalaborwa.
The Phalaborwa Gateway lies on the Eastern border of the Kruger Park. This allows visitors to explore the beautiful area independently or with arranged tour guides. From the Phalaborwa Gateway you can discover Africa's notorious wildlife parks, play golf in the bushveld and enjoy amazing dinners at sunset. There are many surrounding private game reserves to suit all budgets and tastes.
Phalaborwa is also located on the scenic Olifants River, where you can take a leisurely cruise upon to explore the bountiful life along its banks. Phalaborwa is more than a Gateway to the Kruger; it's a Gateway to your African Adventure. See Phalaborwa hotels in Limpopo below.
The Hans Merensky Estate is set in the splendour of the Limpopo Province bushveld and offers the discerning traveller and sport enthusiast a unique African experience.....
more