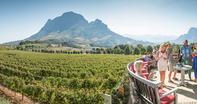 Stellenbosch is a town in the Western Cape Province surrounded by mountains of the Cape Winelands, the larger of the two main wine-growing regions in South Africa.
It is home to one of South Africa's leading universities called Stellenbosch University which was started here in this second-oldest European settlement after Cape Town.
Stellenbosch is well known for its wine route which is arguably described as one of the best wine discovery experiences in the world and includes more than 150 wine farms. About 6 of these wine farms also farm olives and olive oil. Stellenbosch Hotels provide a luxurious base from which to explore all that Stellenbosch has to offer.
Music and art play a big role in this Cape Winelands town and the art route includes several galleries with many world-renowned artists and sculptors living in Stellenbosch. Most of South Africa's iconic architecture can be found in Stellenbosch with its 18th Century Cape Style Dutch houses with gables.
There are many cafes, wine bars, restaurants and coffee shops in the centre of the town as well as bars serving craft beers, ciders and snacks. Stellenbosch is also known as the wine and food capital of South Africa with its more than 80 restaurants offering basic dishes to over-the-top and 5-star dining experiences.
Historic Dorp Street is a national monument and has one of the longest rows of surviving old buildings of any major town in Southern Africa. One of the 9 other museums in Stellenbosch depicts the way people lived in the 1700s.
A huge selection of Stellenbosch hotels in the Cape Winelands to match any budget can be found in Stellenbosch and surrounding wine farms. This includes staying in historic Cape Dutch-style accommodation.
Stay at Stellenbosch Hotels