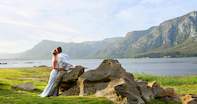 Mosaic Priavte Sanctuary lagoon in Stanford.
Stanford is a quaint riverside village located in the Overberg District Municipality in Western Cape, South Africa.
The village is renowned for its authentic Cape Victorian and Edwardian-styled houses and buildings and can be accessed by scenic road transfers.
Stanford boasts an astonishing number of birds - approximately 200 species, of which 30 are endemic to South Africa. The renowned Stanford attractions include the Klein River, where kayaking and river cruises are everyday activities, and Birkenhead Brewery for its spectacular wines.
Stanford hotels in Western Cape are offered at luxury Cape Winelands estates and lodges. Activities in Stanford include kayaking, boat cruises, wine tasting and birdwatching.
Stay at Stanford Hotels on the Stanford Wine Route.