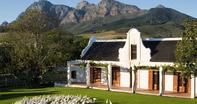 Franschhoek lies in the breathtaking Berg River Valley and is part of the Wine Region of the Western Cape Province in South Africa. Franschhoek is known as the food and wine capital of South Africa because of its top restaurants and strong wine culture.
The Cape Winelands town has a pristine natural architectural beauty with its ideal summer weather and its snowy peaks in winter. Franschhoek hosts one of the top 50 restaurants in the world.
In between the vineyards, cafes, restaurants and Franschhoek accommodation establishments, you will find many shops selling diamond jewellery, designer clothes, antiques, collectables, craft centres, Art Galleries and a chocolate factory. Franschhoek is famous for its many different festivals. You can take part in the Franschhoek Cap Classique Route, the Franschhoek Artisan Food Route and the Franschhoek Wine Valley Food & Wine Route.
One of the popular activities in Franschhoek is taking a tram tour between wine estates in the area. You can also visit the Huguenot Monument, which chronicles the history of the first 176 French Huguenot refugees. Many of the first wine farms established in this region retained their original Cape Dutch farm houses till today.
For the more adventurous you can hire a bicycle or go wine tasting on horseback or you can take part in a Biodiversity walk and do many different hikes of which hiking in the Mont Rochelle Nature Reserve is very popular.
Franschhoek accommodation consists of hotels, lodges, villas, cottages as well as 5 and 4 star accommodation on wine farms.