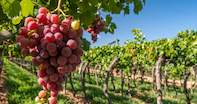 © Chris Daly
This Cape Winelands Guide to the Cape Wine Routes in South Africa will describe the best routes and Cape Winelands accommodation options.
Popular Cape Winelands Holidays
Wine lovers on a
Cape wine route holiday
will have almost 20 routes to choose from. Sweet valley air and splendid mountain scenery to open country side and wide blue skies, each route is different in character and flavour.There are a number of
Cape wine route maps
for those on a self-drive holiday. Visitors can concentrate on one area with a series of day trips, or venture out for contrasting tastes, climate and scenery. One of the joys of wine routing is in the fabulous cuisine available, from picnics to gourmet delights enjoyed in beautiful surroundings.Along the way, visitors will find stunning Cape Winelands accommodation, whether it's a little vineyard cottage or grand historical home.
Each route features country towns
rich in history and culture. Time will be well spent simply exploring the villages, their local arts and craft, museums, markets and tea gardens.
Cape Wine Route Regions
This wine route guide gives an idea of the driving distance from Cape Town.
Cape Town Southern Suburbs
These 2 routes are easily accessible from all Cape Town attractions.
Constantia Wine Route
With vines rising up the slopes at the back of Table Mountain, this fertile valley was one of the first to be cultivated in the late 1600's. Famous for sweet wines, there are 6 wineries.
Cape Point Wine Route
Atlantic Ocean sea breezes determine the types of grapes grown on estates in sea facing Noordehoek and Scarborough, there are 2 different estates and 1 cellar.
Cape Town Northern Suburbs
Situated in the Tygerberg Hills (reached within 30 minutes), this Cape wine route is located amongst rolling countryside north of Cape Town.
Durbanville Wine Route
One of the oldest wine growing regions offering fine views of Table Mountain on the skyline and great hospitality, there are 9 wineries producing fruity flavours and good varieties.
Stellenbosch Wine Route
The Stellenbosch American Express Wine Route (reached within 45 minutes) has grown significantly to represent around
200 grape growers and wine makers
. Every kind of Cape Winelands accommodation is available. This intensely developed area of historic, cultural and scenic beauty has now been divided into 5 sub-regions.
Excellent
Stellenbosch wine route
maps with supplementary information give details of restaurants, activities and attractions. The sub-regions are:
Greater Simonsberg
Stellenbosch Berg
Helderberg
Stellenbosch Hills
Bottelary Hills
Discover
Stellenbosch Guide
Paarl Wine Route
The Paarl Wine Route (reached within 45 minutes) accommodates the large international wine companies and smaller individual producers which together offer great diversity. Up to 50 grape producers and winemakers as well Cape Winelands country hotels, lodges, and bed & breakfasts are clustered around the historic town of Paarl. Visitors will also find excellent restaurants and activities.
Discover
Paarl Guide
Franschhoek Wine Route
The French Huguenot town of Franschhoek (reached within 1 hour) is a delightful destination surrounded by mountains and magical scenery. A
centre for culinary arts
and Cape Winelands accommodation, Franschhoek has 43 wine farms in a picture post-card valley surrounded by mountains. This is an extremely popular day trip and weekend getaway.
Discover
Franschhoek Guide
Wellington Wine Route
The Wellington Wine Route (reached within 1 hour) is compact and the 10 wineries are within easy reach of one another for a
relaxed Cape Winelands holiday
. Visitors can savour the informal atmosphere and get to know the winemakers in lovely surroundings.
Worcester Wine Route
A prominent wine making region that includes the Hex River Valley and Villiersdorp in the north, the Worcester Wine Route (reached within 1 hour) is an advocate for the world's first Braille bottle; all proceeds go to the Institute for the Blind. There are around 10 cellars which produce a large percentage of South Africa's wine.
Breedekloof Wine Route
Down to earth hospitality and good value can be found on the Breedekloof Wine Route (reached within 1 hour) which is located around the town of Rawsonville. There are 23 wineries offering good Cape Winelands wine varieties.
Swartland and West Coast
This area (reached within 1 hour) stretches from the rugged west coast to the rolling hills of the interior at Porterville and north to Piketberg, it's also a fine wheat and olive growing region.

Swartland Wine Route:
This route includes the town of Malmesbury and the Riebeek Valley. There are about 19 cellars and wineries to visit and beautiful scenery to enjoy.

Darling Wine Route:
This quirky West Coast town has great character. Visitors can visit 5 wineries and also enjoy the fabulous theatre, wild flowers from August to late September and many other attractions.
The Overberg Wine Route
The Overberg Wine Route (reached within 1 hour) covers 3 areas that are close together but distinctively different
between Sir Lowry's Pass and Hermanus
. Wine farms around Elgin are located in a valley along the top of a mountain; wine farms around Bot River are at the foot of the pass coming off the mountain, and wine farms around Hermanus, a seaside town, enjoy cool sea breezes. This wine route is broken down into 4 sub-divisions:
Elgin Valley - 7 farms
Bot River - 9 farms
Hemel-en-Aarde Valley and Hermanus - 7 farms
Stanford - 3 wine farms
Tulbagh Wine Route
Strong historical routes and beautiful landscapes set the scene for a Tulbagh Wine Route holiday (reached within 90 minutes). There are up to 20 wine farms and cellars with more planned to meet current demand. A wide variety of Cape Winelands accommodation and wines can be found in this area.
Robertson Wine Route
Representing 48 wineries offering free wine tasting, Robertson Wine Route (reached within 90 minutes) encompasses the towns of
Ashton, Bonnievale, and McGregor
and includes the Breede River Valley as well as the increasingly popular Route 62. Extremely picturesque, this region has many great attractions and a wonderful Cape Winelands country atmosphere.
Olifants River Wine Route
There are 16 wine farms on the Olifants River Wine Route (reached within 2 hours). Hugging the river, visitors can appreciate the gentle open countryside and vast blue skies, while discovering a great mix of both large wine farms and boutique wineries. This is also a
magnificent wild flower region
from August to late September. Wine route towns include Vredendal on the far west coast, Lutzville and Klawer.
Elim Wine Route
Located further along from the Overberg, Elim Wine Route (reached within 2 hours) has 4 wine farms and a unique maritime climate on the most southern tip of South Africa. This quiet outpost specialises in slow growing grapes and unusual flavours which have attracted international attention.
Klein Karoo Wine Route
The Klein Karoo Wine Route (reached within 2 hours) stretches along Route 62 from
Montagu
, continuing past Oudtshoorn to Uniondale which is just above Knysna, Garden Route. This route includes 18 wineries growing grapes in diverse conditions, but in a generally drier climate which is great for healthy vines. A wide variety of Cape Winelands wines can be sampled.
Orange River Wine Route
The Orange River Wine Route (1 hour flight from Cape Town or Johannesburg or a full day's drive) flourishes along the riverbanks in an otherwise dry and semi arid region of the Northern Cape. The mighty Orange River, a popular
river rafting destination
, is a lifeline of water snaking its way past Upington and beyond for thousands of kilometres. There are 5 major wineries here. Upington is a popular stopover for visitors on their way to Augrabies Falls National Park, Fish River Canyon and the Kgalagadi Transfrontier Park.