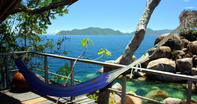 Lake Malawi is the largest and second deepest lake in Africa and 9th largest lake in the world. Discovered by David Livingstone in 1859 and named Lake Nyaza, this is a 23 000 kilometer stretch of clear tropical water.
As one of the greatest lakes in all of Africa, Lake Malawi's inviting sparkling surfaces and remote islands beckons to be explored by travellers. It is home to such an abundance array of various fish, that has been reported to host more fish species than any other body of water on the planet.
Life here revolves around the tides of the Lake as its rich abundance of colourful fish are a main source of food for both human and animals alike, all sharing its bounty.
The scenic beauty of the Lake is legendary, where reeds sway in the cool breeze, monkeys rustle in the trees above you, fish Eagle's cry pierce the big African sky, a fisherman casts his net into the shimmering depths whilst hippos graze neutrally beneath distant mountains in the background.
Lake Malawi supports many water sports such as snorkelling scuba diving, sailing, kayaking and water skiing.
See below Lake Malawi lodges in Malawi.