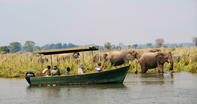 The Liwonde National Park is one of Malawi's most popular parks. Game viewing is naturally enhanced in the area due to its location on the upper Shire River plain.
It covers 550 sq kilometers (212 sq miles) of mopane and savanna woodland on the floodplains of the River Shire and Lake Malombe in the south of the country.
A traditional African wildlife reserve, Liwonde National Park is home to a diverse array of fascinating mammals and rich birdlife, which colours the somber bushveld. Due to its unspoilt environment and prolific game, Liwonde National Park is generally regarded as the best game reserve in Malawi.
The landscape before you is filled with large numbers of elephants and the river attracts countless hippos and crocodiles. Antelope include kudu, sable and bushbuck. There are leopards, hyeana, and the occasional visiting lion. Black rhino have been re-introduced into the area.
Birdlife is exceptionally varied as the river attracts fish eagles and weaver birds which build their nests in the thin woodland and the Pel's fishing owl is often seen at dusk along the river's edge.
You can take part in canoe and boat safaris as well as game drives and game walks. For accommodation there are lodges and safari camps available. Liwonde National Park accommodation is available in the park.
See below for Liwonde National Park safari lodges in Malawi.