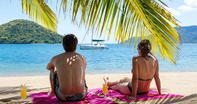 Read Malawi Holiday guide articles on the best places to visit and the most exciting activities to enjoy on a Malawi holiday.
There is more to this fabulous destination than Lake Malawi - discover the wildlife of Majete Wildlife Reserve and other top things to do in Malawi
Malawi is an amazing and vibrant country, full of plenty of exciting activities and attractions. From gorgeous beaches with crystal-clear water to treks up mountains, visitors can find something to do that suits their desires.
Kayaking in the waters of Lake Malawi is great for outdoor enthusiasts. For those looking for a more leisurely experience, one can take a leisurely boat ride along the lake and marvel at some breathtaking sights of landscapes, wildlife and local fishing villages.
Lastly, no visit is complete without exploring some unique traditional artisans' markets or enjoying a meal at one of the many local eateries. A trip to Malawi promises fun-filled days with unforgettable memories!