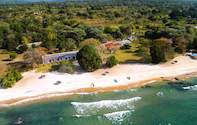 The area around this Lake Malawi lodge consists of pristine white sandy beaches - ideal for relaxing days in the sun.
Your Expected Lake Malawi Experience
Accommodation is ideal for families or groups of friends
Situated along the northern shoreline of Lake Malawi
Each room has its own beach view overlooking the lake
Just relax on the beach or participate in watersports
Sunbird Chintheche is the most luxurious Lake Malawi lodge on the northern shores of Lake Malawi. The comfortable twin or double bedded rooms face the amazing beaches.
These long white sandy beaches are some of the finest and most beautiful on the entire lake. Watersports, including diving, snorkeling, sailing and windsurfing are available every day. But you can also join one of the bird watching, mountain biking and fishing tours or visit a local village.
Lake Malawi is renowned for its tranquility and days of pure relaxation. Here, you can just lay back in real African style. As the lake merely looks like a sea, it is not salty and has no tide. Should the lake be choppy, you are invited to relax in the swimming pool or on the sun deck of your Lake Malawi lodge.