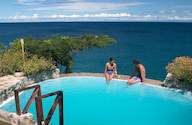 Kaya Mawa is a Lake Malawi island getaway on Likoma Island offering everything you could want for a relaxing and romantic retreat.
Translated from Chinyanja, the local dialect, Kaya Mawa means 'maybe tomorrow'. Providing a secluded luxury Lake Malawi island accommodation in traditional surroundings, Kaya Mawa is the ultimate Lake Malawi island lodge on Likoma Island.
Built by hand, in partnership with the local community, this Malawi island lodge imaginatively incorporates luxury and simplicity without intruding on the natural beauty of its surroundings.
One of the most isolated and beautiful destinations in Malawi is Likoma Island, the larger of 2 islands in the northern region of the lake. With breathtaking views of the mountains and wilderness of Mozambique, Likoma Island remains almost untouched since its discovery. Kaya Mawa offers romantic Lake Malawi beach lodge accommodation in chalets, premium rooms and private houses.
Kaya Mawa Facilities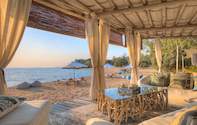 Swimming pool
Restaurant
Beachside Bar and lounge
Spa
Likoma Island Activities
Sailing
Fishing
Kayaking
Scuba Diving & snorkelling
Water skiing
Wind surfing
Kite surfing
Yoga
Quad biking & mountain biking
Island walks