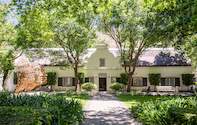 Grande Provence is situated in the lush Cape Winelands of Franschhoek, near Cape Town, and offers a wonderful fusion of the past and present.
This venue offers Franchhoek accommodation in stunning surrounds
Guests can enjoy gourmet cuisine and award winning wine
Fine dining restaurant, wine tasting, picnics, wine tours
Custom designed gallery featuring South African artists
In the heart of the spectacular Winelands is where you will find the magnificence that is Grande Provence Estate, a gracious wine estate in Franschhoek, combining the elegance of the past with the contemporary luxury of the present.
This 17th century Cape Dutch wine estate has been lovingly restored into what it is today, a world class venue offering luxury accommodation, superb gourmet cuisine at The Restaurant at Grande Provence and award-winning wine.
A team of experts have brought their fresh vision and contemporary creativity to this historic homestead, bringing in light and space, while still retaining its historical heritage and charm. Surrounded by lots of trees and a sparkling lake, guests at this wine estate in Franschhoek are encouraged to explore the lush area and take in the beauty and tranquillity of this serene estate.