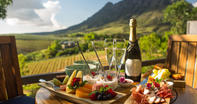 Explore divine gourmet culinary offerings and world famous wine estates on a Food and Wine Holiday in the Cape Winelands of South Africa. Indulge your senses while relaxing amidst sprawling vineyards surrounded by the most beautiful landscapes.
The Cape Winelands in South Africa boasts some of the best award-winning wine farms in the world. Every year thousands of tourists from around the world flock to the amazing wine route situated in the Western Cape to indulge in the latest offerings in both food and drink.
Experience rich new flavours harvested and homegrown from the fertile valleys of the Cape. A wine tasting tour will undoubtedly offer you the best possible opportunity to experience the process of mixing rare blends while enjoying the mesmerizing tastes and unforgettable aromas of these locally produced South African wines.
What is a fine wine without the pairing of fine cuisine? Fine dining options in the Cape Winelands will not disappoint the keen foodie traveller. Many of the wine estates offer award-winning cuisine and dining options at well-designed restaurants and bistros.
Experience freshly baked breads, the finest meat cuts and the best organically grown fruit and vegetables from the variety of menus along the Wine Route. Take your senses to a new level with the latest offerings from an amazing food and wine holiday in the Cape Winelands.