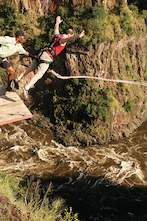 © Wild Horizons
Bungeeeeeeeeeeeeeeeeeee!!!!!
Breathtaking! What else is there to say?
Photo: Wild Horizons111 metres of pure adrenaline rush! The bungi jump operates off the Victoria Falls Bridge and has a 100% safety record.
Jumps operate from 09h00 to 17h00 every day
Minimum age 14 years
Minimum weight of 40kg, maximum weight of 140kg
Passports are required by clients to access the bridge
Over 50 000 people have committed themselves to the thrill of jumping off the bridge. Challenge the limits of your mind and test the edge of fear by leaping off the impressive bridge, with the falls behind and the mighty Zambezi below.
Ankle and body harnesses are attached separately to your body. After jumping you are winched back up the bridge. If you want, you can have photos and a video of your jump - at an additional fee.
Brett Hilton-Barber and Lee R. Berger. Copyright © 2010 Prime Origins.