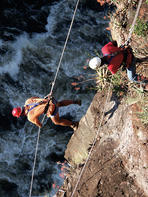 There are four main "high wire" activities on offer at Victoria Falls which, as travel writer Ian Michler has remarked, will "cement your faith in the art of cables and clips and those who keep them fastened".These activities are available on both the Zambian and Zimbabwean sides. Photo: Wild Horizons
Zip Wire

Pictured above.
A variation of the Flying Fox mentioned below; you head downhill so the speed kicks in and at twice the distance of the Flying Fox, you will reach speeds of over 100km/h.
The Flying Fox

Get clipped into a harness attached to a horizontal wire across the gorge, 125m above the valley floor, and shoot across the canyon.
Abseiling

The most gentle of the high wire stunts; get clipped in and descend at your own pace down the side of a sheer cliff into the remarkable gorges below the Falls.
The Gorge Swing

For the really brave - get clipped to a wire and tumble 70m in a free fall off the edge of a gorge, taking in a 100m swinging arc to prove to yourself you are crazier than anyone else you know.
Canopy Tours

Victoria Falls canopy tours allow you to see the amazing lush riverine forest landscapes from above. A network of slides, trails and rope bridge walkways within a canopy of trees offer a fun activity for the whole family.
Included in your daring adventures
All clients are covered by a MARS plan (Medical Air Rescue Service)
Full day trips include a light lunch of cold meats, cheese and salads
Minimum 1, maximum 20 clients
Soft drinks and iced water are available during the day
Tea, coffee and scones are served on arrival
Transfers to and from your hotel are included in the price
NOTE: Minimum age is 10 years
A safety instructor briefs you on the area and proper use of the equipment before starting. The abseil is 53 metres (173.8 feet) moving down the gorge wall backwards, or you can "rap jump" facing forwards.
The gorge swing entails throwing yourself off the edge of the cliff attached to a body harness and free falling for 50 metres (173.8 feet) before being swung out into the middle of the gorge. The jump ends with several pendulum swings before you are lowered to the ground.
At the bottom there is a tract back to the top of the gorge. The flying fox is a cable slide high above the gorge and clients "fly" across, attached to a special body harness. They are then pulled back to the gorge so there is no walkout. All activities can be done as many times as liked throughout the day.
Brett Hilton-Barber and Lee R. Berger. Copyright © 2010 Prime Origins.
Contact Us to book any of these exciting Victoria Falls high wire activities.