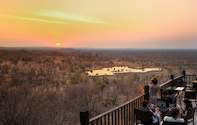 The Victoria Falls Safari Club in Zimbabwe is in close proximity to the Victoria Falls and accommodates guests in sheer luxury during their Zimbabwe safari holiday.
Accommodation 16 luxury suites
Activities Walking safaris, game drives, sunset cruise
Highlights Victoria Falls, fine dining, game viewing
Destination Victoria Falls, Zimbabwe
Situated just four kilometres away from the renowned Victoria Falls, this safari camp in Zimbabwe invites guests to an unforgettable African stay. Victoria Falls Safari Club offers cosy accommodation with stunning bush views and modern amenities.
At the Victoria Falls Safari Club, guests are exposed to an array safari tours. Explore the wonderful fauna and flora that reside at this Zimbabwe destination, known as one of the Seven Natural Wonders of the World. Drift along the tranquil waters of the Zambezi River and spot animals including hippo, crocodile and a profusion of birdlife.
Dining in Victoria Falls is an amazing experience and guests can delight meals at the MaKuwa-Kuwa Restaurant, that serves delicious dishes and enjoy pre-dinner drinks at the Buffalo Bar. Admire the last rays of the day and witness game coming for a drink at the adjacent waterhole.