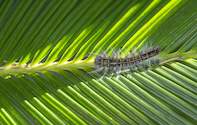 Responsible Travel + Sustainable Tourism = Responsible Tourism
As part of our environmental awareness strategy, Siyabona Africa has formed alliances and partnerships with tour operators whose environmental approach and undertakings reflect our own.
The majority of our service providers are part of, or have initiated, community engagement and up-liftment programs in the areas where they operate, providing job training and employment within the travel industry as safari guides, game lodge staff, hotel chefs, managers and general hospitality staff, transport managers and drivers etc.
All our game lodge, safari and overland operators are
involved in various environmental protection programs
that affect their various businesses and are especially engaged in raising ecological awareness as part of the holiday experience by passing on this information to their guests who stay or travel with them in Africa.
While the need to go the proverbial extra mile is central to Siyabona Africa's company philosophy - our wish that our guests depart more informed and ecologically aware than when they arrived and more appreciative of the world on their return home, is of paramount importance.
In the process, our customers are exposed to not only the continent's plethora of treasures and experiences, but also the challenges that face our planet and humanity.
Siyabona staff need to be aware of how how all the elements of life interact, and that tourism and way we do business has an impact that can be positive or negative on the places we visit. We believe in proactively educating one another and travellers about these cultural and environmental issues and
ensuring responsible behaviour in everyday life.
As individuals and a company we believe in contributing to broader societal goals and look beyond simply making a profit. We understand, and are concerned about, our human impact on the planet which is fostering rapid climate change resulting from massive over-consumption and depletion of resources.
We actively support those associates and affiliates
who are engaged in responsible planning and management of our environment and natural resources to redress damage and ensure sustainability
We also endorse the principals of
Fair Trade in Tourism,
which is about ensuring that the people, whose land, natural resources, labour, knowledge and culture are used for tourism activities, actually benefit from tourism.