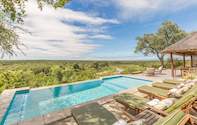 Misava Safari Camp is situated in the Klaserie Private Nature Reserve in the Greater Kruger Park, offering top-notch hospitality and more than enough African wildlife to keep you enthralled for days.
Why We Love it and You Will Too
This camp comes fully-equipped with indoor and outdoor dining areas, a chic, open-air bar, a library, a comfortable lounge and a rim-flow pool with perfectly-placed sunloungers.
For every guest that stays here, a donation is made to Eco Children, which focuses on conservation education and comprehensive school development in local primary schools.
Early morning starts at Misava Camp are well worth it. Head into the uncrowded Klaserie savannah on guided game drives to witness the members of the Big Five and plenty more charismatic animals, too.
By prior arrangement, game drives can include a visit to the dam, or Koppie Lookout. This vantage point offers a spectacular view witnessing the stunning hues of an African sunset – an experience not to miss!
This camp is also relatively easy to reach via self-drive from Johannesburg, and even more so with flights to and from Hoedspruit Airport nearby.

Your Misava Safari Camp Experience
The Klaserie Nature Reserve covers an impressive 60 000 hectares of pristine African wilderness. This South African reserve is where you will discover Misava's Safari Camp.
It's what we refer to as a bonafide G.L.T, which stands for "great little place", tucked away in a lesser-known safari area, far away from the usual tourist paths. It is small, personal and incredibly serene, perched high on a hill overlooking the river bed – the view is exceptional.
The facilities are something to write home about, from spa treatments to open-air lounge and bar area to the outdoor deck and rim-flow pool. You also won't need to venture further than these areas to experience the wildlife that calls the Klaserie home. Some of the best game viewing and birding can be done straight from the sunloungers. You will, however, not want to miss out on the daily guided walks, and morning and late afternoon guided game drives that venture out over the diverse terrain.
From flat planes to rocky outcrops and hilly landscapes, the thrill of witnessing a kill looms around every corner. The Klaserie is home to an explosive variety of predators, including lions, leopards, spotted hyenas, jackals and wild dogs. Misava Safari Camp is just the place to be if you want to be in the heart of all the wildlife action.
As for your accommodation at Misava Safari Camp, you have a choice here between Garden View Rooms and Private Villas with river views. Both are equipped with all the modern comforts you could ever desire. Each is an oasis of comfort, especially for when you need some me-time.