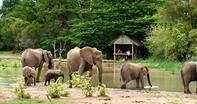 The Greater Kruger Park area in the Limpopo and Mpumalanga provinces of South Africa, is comprised of a number of private game reserves near or adjacent to the Kruger National Park.
Greater Kruger Park is a safari-lovers paradise! This extensive park stretches over 344,000 hectares and includes an extraordinarily diverse ecosystem of rich wildlife, breathtaking landscapes, and lush vegetation. With hundreds of unique species, visitors may get to experience the thrill of seeing a herd of majestic elephants or spot an elusive leopard in the tall grass.
The range of landscapes within Greater Kruger Park offers something for everyone - from acacia savannah to thick riverine forests and marshlands along with big skies for stargazers to admire during night game drives.
Visitors have the option to stay in any of the numerous luxury Greater Kruger Park safari lodges where professional tour guides can provide insight into African wildlife and culture, as well as lead exclusive excursions. There's no doubt that Greater Kruger Park will exceed all expectations, leaving adventurers feeling fulfillled and wanting more!
These private Greater Kruger Park reserves are home to an array of wildlife, including the Big Five. Game drives are conducted in private game drive vehicles, to offer a personalized safari experience.
View luxury Greater Kruger Park safari lodges below.