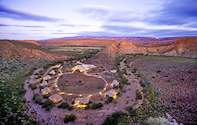 This is the escape off the beaten track you have been dreaming about! Sanbona Wildlife Reserve in the Little Karoo is famous for its breathtaking beauty and indigenous fauna and flora - and the best part is it's just a scenic 3-hour drive from Cape Town.
Why We Love it and You Will Too
Situated at the foot of the Warmwaterberg Mountains on Route 62
Beautiful scenery and indigenous flora in the Little (Klein) Karoo
Indulge in serenity with pampering spa and wellness treatments
See Big 5 wildlife on game drives and wilderness walks
Spectacular ancient Khoi-Khoi and San rock art
Your Sanbona Wildlife Reserve Experience
At the foot of the Warmwaterberg, in the heart of the Little Karoo, between Montagu and Barrydale on the famous Route 62, is the beautiful Sanbona Wildlife Reserve.
Sanbona Wildlife Reserve is situated in 54 000 hectares of undulating mountains and plains, indigenous fauna and flora, rock formations and San rock art that make this a destination not to be missed. Specialist guiding is a key element in providing a memorable and varied experience.
Activities are plentiful in this scenic oasis! Big 5 game drive safaris, wilderness walks, stargazing, boat safaris and ancient rock art tours.
The name Sanbona is a combination of the 'San' people (Bushmen) who roamed this area for thousands of years and 'bona' which represents their vision in order to position this portion of the Little Karoo. Be it a journey of rejuvenation and self-discovery or absorbing the various essences and activities, Sanbona Wildlife Reserve represents in true form the philosophy of taking care of the small things in life.
Discover the spirit of the Little Karoo on foot and see the little things of the reserve through the eyes of the San. With the guidance of your experienced ranger, early morning walking trails to greet the day have been developed to cater for individual needs. From gentle strolls, taking in the breathtaking beauty of the indigenous fauna and flora, to challenging trails discovering isolated vistas, reveal the beauty of Sanbona Wildlife Reserve.