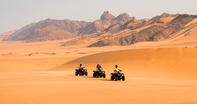 A desert adventure holiday in Africa offers you the opportunity to explore some of the most majestic landscapes in the world. Quad biking, dune surfing, hot air ballooning are just some of the exciting activities on a desert adventure holiday.
Africa's diverse landscapes and climates offer so much more to discover upon this mighty continent. The desert adventure holiday offers another unique getaway that allows you to discover more about Africa's deep red dunes and majestic terrains and the life that occurs there.
Blistering hot and shimmering under the African sun, the desert teems with unique fauna and flora that have been home to the indigenous peoples of the area for centuries. Explore the deep red ribbed dunes and vast landscapes in a variety of exhilarating ways as you brave one of the planet's harshest climates.
Challenge the high rising sand dunes by 4X4 or do a more daring venture by quadbike. Nothing beats the adrenaline rush of overcoming a high dune reaching up into the deep blue sky, then tackling its descent. You can also explore the milder terrains and its dry bush with its unique species of big game such as zebra, buck and rare lions.
The rich fauna also attracts a variety of rare bird species to behold. To really understand this harsh environment, boldly take a walk with the local indigenous peoples who will teach you how to survive in this unforgiving landscape. End your day off in the cooling sunset with a thrilling balloon ride over the vast plateau and soak in the beautiful views from above. Discover the deepest secrets of one of Africa's many untamed worlds with a desert adventure holiday in Africa today.