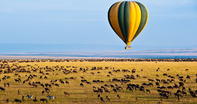 A hot air balloon safari in Africa has become the ultimate must-do on a adventure getaway today. It's not hard to see why being swept off your feet across the African landscape makes for an unforgettable experience.
Imagine ascending above the vast open plains of Africa as the fresh winds whip wildly against your face. The rising sun creating a myriad of colours across the sky as wildebeest herds stampede across the swaying grasslands of savannah.
The hot fires keeping the giant balloon afloat bursts open, as you are taken further up to take in the majesty of Africa's most beautiful landscapes. Landscapes that are alive with the flaming shadows of ancient trees dancing in the red sun and the swift movements of game roving in perfect unison.
This is but a small taste of what can be expected when going on a hot air balloon adventure. A hot air balloon safari experience is one that you will never forget whether you ride over the majesty of the great migration in East Africa or the treetops of the wild bushveld of South Africa.