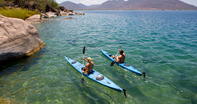 A Watersports Adventure Holiday in Africa offer some of the most spectacular beaches and islands to indulge in all your favourite watersports. The untamed and pristine coastlines all have something special to offer holidaymakers looking for fun in the sun.
African getaways are more renowned for their adventure safaris in the bushveld, however the amazing beaches off the continent's coastline offer another side of paradise to be discovered.
Escape to pristine beaches with sparkling white sands with turquoise lagoons lapping in on the shores. Many of these amazing beaches are situated along the eastern shores, which means warm waters are available all year round with an abundance of wildlife frolicking in the deep blue seas.
Watersports Adventure Holidays do not necessarily mean lounging around the beach all day. The wild untamed coasts and perfect conditions only mean there are numerous fun water-based activities to enjoy. A watersports adventure holiday in Africa is not one to be overlooked, with many beaches offering amazing adventures that all have their own unique offerings.
Explore the deep blue oceans by scuba diving in rich coral reefs or go snorkeling in the nearby lagoons and discover some of the rarest species of tropical fish. Kayaking and canoeing are other popular pastimes as it's a great way to explore the many islands off the map while braving the open seas.
If you are lucky, you might just get up close to a pod of dolphins in the area or row past a breaching whale. Take a breezy sail on the tranquil waters with some windsurfing or go for a sunset sail on a traditional dhow while sipping on champagne. Try your hand at deep sea fishing like the locals and bring home some of the most sumptuous offerings fresh from the Indian Ocean.