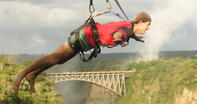 An Adrenaline Adventure Holiday in Africa attracts thrill seekers! From bungee jumping, abseiling and braving the rapids of the mighty Zambezi, adrenaline junkies will undoubtedly be enraptured by the fierceness of Africa's untamed lands.
Nothing could compare to plunging head first off the cliffs that bear witness to the mighty Victoria Falls. A heart pumping adrenaline filled moment that would be the crowning glory of all experiences for the ultimate thrill seeker. Challenging Mother Nature's most powerful rapids with unparalleled forces from the Earth can be one of the most exhilarating and satisfying feats of a lifetime
Fly high above the gushing falls and forests with an exposed microlight flight as you dip down to feel the spraying mists from below. Go white water rafting in some of the most perilous gorges in Africa, fed by the thrashing rapids from the Victoria Waterfalls. This wild adventure will keep you on the edge of your seat from start to finish as you dodge rock pools and unexpected gushes of streams all coming your way.
Take on the steep cliffs that plunge down into unknown depths by abseiling through some of the most breathtaking gorges. Bungee jump over the mighty Zambezi River or zip line across one of the most beautiful rainforests in the world.
Push yourself further with the death defying Gorge swing over a 70-metre plummet into the mighty chasm of the Zambezi. An adrenaline adventure holiday in Africa will undoubtedly leave you feeling recharged and invigorated by the splendours of nature.