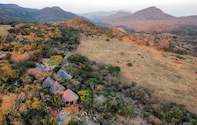 Leshiba Mountain Retreats is a hidden gem on top of the Soutpansberg Mountains, 36km west of Louis Trichardt, Limpopo. Escape to a secluded mountain top retreat.
Why We Love it and You Will Too
Social distancing travel destination in a tranquil environment with stunning scenery
Game drives, cycling, hiking trails, ancient rock art, meet Venda artists
Variety of Soutpansberg accommodation including self-catering options
World-class 12.6km mountain biking trail
Glorious sunsets over the Soutpansberg Mountains
Your Leshiba Mountain Retreats Experience
Leshiba Mountain Retreats is a private wildlife, nature and eco-tourism destination, ideal for those looking to escape the city and revel in the tranquillity of the Soutpansberg Mountains near Louis Trichardt in Limpopo, South Africa.
Unlike virtually all game reserves in South Africa, Leshiba allows you to safely wander freely amongst wildlife with no fence and no guide. Inhale the scent of ancient Africa, free your mind and live an outdoor experience unlike any other. Explore pristine mountain ranges, gorges and rock pools at your own pace then retire to the comfort of Leshiba Mountain Retreats.
On a hike or mountain bike, you can explore Leshiba Mountain Retreats trails and experience the diverse ecosystems and beautiful vistas of the Soutpansberg. These are among the top hiking trails in South Africa. Guided game drives reveal local wildlife including giraffe, zebra, antelope and leopard. Join us for a Soutpansberg safari like no other.
There are 4 Soutpansberg accommodation options to choose from at Leshiba Mountain Retreats - Venda Art Lodge, The Farm House, Hamasha Bush Camp and Luvhondo Bush Camp, each with its own unique charm and attractions. Self-catering options are available - an excellent option for families and those wanting flexible meal times.
South African art aficionados will love the gallery at Venda Art Lodge which showcases local Venda art.