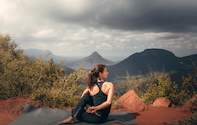 This is what an escape into nature is all about - hiking, cycling, wildlife game drives, yoga, stargazing and wellness treatments. A stay at Leshiba Mountain Retreats will rejuvenate your spirit.
There are many adventurous things to do in the Soutpansberg at Leshiba Mountain Retreats including hiking, mountain biking, running, game drives, Soutpansberg rock art tours and more.
Explore Hiking Trails

A new dawn awaits you at the top of the T1 trail, with a spectacular view at the top this is an unforgettable place to watch the sunrise.
Swimming in rock pools and exploring the furthest reaches of Leshiba await those who hike down the Hamasha Gorge trail.
Leshiba has 9 marked trails for hikers, as well as guided archaeological trails for those wanting to learn about the awesome natural history and rock art of the Soutpansberg.
See Wildlife on Game Drives

Leshiba Mountain Retreats is located in the UNESCO Vhembe Biosphere Reserve and is a protected wildlife sanctuary for local wildlife including Zebra, Wildebeest, Impala, Warthog, Civet, Leopard, Giraffe and more.
All can be seen on guided game drives. Night game drives offer a glimpse of the nocturnal creatures like civets, aardvarks, genets, African wild cats, brown hyena, porcupines and pangolins.
Cycling in the Clouds

If you're a nature lover, then the Leshiba Mountain Retreats 12.6km cycling trail is for you.
This ride has everything you could want on a mountain bike adventure: hills, mountains, forests, plains and gullies.
Devlinn Fogg designed it so there are plenty of opportunities for close encounters with wildlife.
Discover the Soutpansberg

Leshiba Mountain Retreats offers everything you need for an adventurous escape so you will most likely not feel the urge to leave, however, if you wanted to explore the Soutpansberg area there are day excursions to nearby attractions.
Things to do in the Soutpansberg include a visit to local wood carvers and Venda artists or take a trip to see the largest Baobab tree in South Africa.
Lake Fundudzi is a sacred Venda site worth visiting for a cultural and mythical adventure.