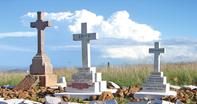 Discover history on a holiday in Africa from the early days of humankind on Earth to the birth of a new country. Walk through some of the most iconic landmarks and landscapes that have defined Africa's modern social and political climate.
History and political enthusiasts will find a history tour in Africa to be a fascinating and eye-opening experience. While exploring the amazing wilderness and beautiful African nature, you can take an excursion to some of the most iconic spots in African history. The historical and cultural landscapes that make up Africa's incredible life story is something to behold in awe.
Africa's is not only rich in biodiversity but also from the multiple societies that make it up. Africa's eclecticism has seen it go through many triumphs and tumults between those who have called this continent home.
Visit the Battlefields of Kwazulu-Natal, the capital of the Zulu nation, in South Africa and roam where the fiercest battles between tribes and colonies once fought. Be sure to touch on some of the iconic landmarks on the battlefields erected by warring nations as a symbol of their everlasting fight for freedom.
Africa's history goes far back to the dawn of time, even before the battles of modern man. You can view amazing archeological sites around the countries dating back to the Stone Age where you can find artefacts made from early humans. Walk through ancient caves and discover the oldest art galleries in the world as you trace back to the roots of early man in the most beautiful and natural surrounds on Earth.