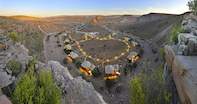 An Off The Beaten Track holiday in Africa takes your safari adventure to a whole new level. Whether you are regular or first time visitor to the continent of Africa, this type of adventure will leave a lasting impression on the true pioneering traveller.
There are many lesser-known safari destinations across Africa. For those looking for a new adventure in an unknown paradise around the continent will be pleased to find a variety of unique adventures.
If you want to avoid the crowds and typical safari hot spots, then an Off The Beaten Track holiday in Africa is for you. Whether you are looking to get a once in a lifetime experience or looking for something new to explore in Africa, there are many amazing hidden gems to discover.
Imagine being one of the few to explore some of the most isolated and oldest places in Africa. Cool off in hidden waterfalls after a strenuous hike through unchartered territories, while watching the wildlife up close. Dare to venture into new lands with no roads leading back and forth, where getting there by a traditional rowboat is your only means of transport. Explore landscapes that have stood in deep silence and rest for centuries.
Discover new terrains along the world's oldest desert, The Namib, where wild horses roam over vast plains and amidst mystical rock formations. It is often asked why these areas are not better known if they have such spectacular wildlife - the answer lies in the economic development of the countries concerned. Funds were not available to develop the tourism of the wilderness areas, however in recent years the economies have improved, funding has become available and the world is learning of the new frontiers.
Discover something new on an Off The Beaten Track holiday in Africa.