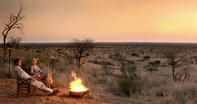 Tswalu Kalahari Reserve is located in the Northern Cape, and is the largest privately owned reserve in South Africa. This 1000 000 hectare reserve in the South African Kalahari can be accessed by road and air transfers.
Tswalu Kalahari Reserve is an untouched wilderness where an abundant wildlife can be spotted in all their glory. The Kalahari savannas, combined with the dusty sand dunes set Tswalu Game Kalahari Reserve apart from the other reserves in South Africa.
The reserve is home to Kalahari-adapted wildlife that include a rich diversity of mammals and a profusion of birds. The roamers of the bush include lion, wild dog, Hartmanns mountain zebra and cheetah.
Tswalu Kalahari Reserve accommodation is offered at luxury game lodges. Activities in Tswalu Kalahari Reserve includes game drives, bush walking safaris, horse rides, birdwatching and many more.
See below for Tswalu Kalahari Reserve safari recommendations in Northern Cape.