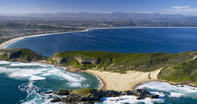 © Roger De La Harpe
Plettenberg Bay lies in the Western Cape Province on the Garden Route of South Africa. It lies in a beautiful stretch of mountains, Indigenous forest and a temperate coastal climate.
Plettenberg Bay is a holiday resort at the mouth of the Keurbooms River with lagoons and beaches that is hard to beat and have the largest seagull breeding colonies along the South African coast.
The Robberg Nature Reserve is again home to a large Cape Fur seal colony. Plett is known to have fantastic mild weather from May to September and its winelands is South Africa's smallest wine region.
Plettenberg Bay is popular for sightings of the Southern Right whales during their breeding season from July to December. Other sightings include Humpback whales, Killer whales, Sei whales, Bottlenosed dolphins and Humpback dolphins.
You can visit The Bramon Wine Estate Restaurant and Cellars as well as 7 other wine farms in this region. The Bramon is well known for its 2 Michelangelo Gran D'Or gold medals it won at the Michaelangelo International Wine & Spirits Awards.
Other Plettenberg Bay activities you can partake in when staying at Plettenberg Bay hotels include swimming with the seals, big five game viewing, birding, paddling the river, hiking, and visiting Monkeyland and the bird park which is spectacular.
Stay at Plettenberg Bay hotels on the Garden Route.