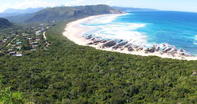 Natures Valley is a South African Garden Route holiday resort, nestled in the Tsitsikamma National Park. This small village is located at the tip of the Groot River, and access is by game excursions. Natures Valley enjoys a balmy climate and the landscapes are covered with lush vegetation.
Natures Valley is considered to be one of the most beautiful places along the Garden Route and is best explored on foot. Bushpig, bushbuck, an abundance of birds can be spotted throughout this scenic region. Natures Valley is sandwiched between the Indian Ocean and steep slope and the Kouga, Kammanassie and the Groot Swart mountains tower the valley.
Natures Valley accommodation is offered at luxury lodges. Activities in Natures Valley includes tree-top canopy tours, bungee jumping, boat cruises, ferry rides, scuba diving, abseiling and horse rides. See below for exciting Natures Valley accommodation recommendations.
Here at Tranquility Country Lodge you can join in and experience this wonderful place where the ocean and forests meet in magnificent splendour. Leave the world behind you and let your worries seep away...
more