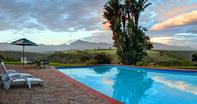 Located on the scenic Garden Route in the Western Cape Province, the town of George is a popular holiday destination with locals. It is the 6th oldest town in South Africa, and is steeped in rich history with many sites to visit.
George is also ideally situated between major cities such as Cape Town and Port Elizabeth, making it an ideal accommodation spot from which to explore the Garden Route and Western Cape's Eastern coastline.
Its temperate climate and lush green environment make George the perfect holiday getaway. Ideal for hiking, birdwatching and exploring the beach, George offers many amazing outdoor activities all year round. Its secluded location surrounded by sea, mountains and nature also make it an ideal town for a relaxing escape from the city.
See George Hotels
Nestled at the foot of the Outeniqua Mountains is the peaceful Far Hills Country Hotel. Far Hills Country Hotel has managed to combine the grand style of days gone by to modern...
more