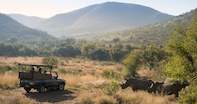 Pilanesberg National Park is located only 2.5 hours north west of Johannesburg in South Africa, making it an excellent South African safari destination.
Pilanesberg National Park is in the malaria-free bushveld and situated in a prehistoric volcanic crater that creates the perfect geological backdrop for some of the most spectacular game park vistas that can be captured on film.
Pilanesberg National Park is home to an incredibly varied habitat, where lion, leopard, black and white rhino, elephant and buffalo, as well as hyena, cheetah, sable, giraffe, warthog, zebra, hippo and crocodile and many more animals, can be found. Due to the various habitats represented, Pilanesberg is bird watching paradise with over 300 species recorded in the park.
Being in such close proximity to Sun City Resort, this South African safari destination provides a convenient add-on to a Sun City holiday.
Stay at Pilanesberg National Park safari lodges.