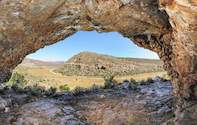 This 54000 hectare wildlife reserve offers the opportunity to roam rich historical, untouched land, view a variety of plant and bird species.
Situated at the foot of the towering Warmwaterberg Mountain in the heart of the Little Karoo, Sanbona Wildlife Reserve celebrates the spirit of the San people (Bushmen) who once roamed this distinctive area. Sanbona Wildlife Reserve and the spirit of the San people welcome you.
More than 54 000 hectares of undulating mountains and plains, indigenous flora and fauna, rock formations and San rock art make Sanbona Wildlife Reserve a destination you do not  want to miss.
Sanbona Wildlife Reserve is situated approximately 3.5 hours drive from Cape Town on the Route 62 between Montagu and Barrydale.
Directions to Sanbona Wildlife Reserve
By Road
Travel on the N1 from Cape Town in the direction of Paarl. Continuing on the N1, travel past the tollgate and through the Huguenot Tunnel. Alternatively, the scenic Du Toits Kloof Pass can be taken.
The first town is Worcester, set in the Breede River valley. Taking the second turnoff to the right into the town itself, the N1 is left (behind) and the interesting and quaint Route 62 or (R62) is taken. Follow the signs to the picturesque town of Robertson, synonymous with fine wines, fruit, roses and top horse breeding.
Once through Robertson, encountering farms stalls, wine farms and arts and craft shops along the way, the next town is Ashton. Travel on through the Montagu Pass and continue for approximately 38km (23.6 miles) and turn left at 'Die Vlakte' and Sanbona Wildlife Reserve signs.
Please be advised that the road changes from tar to gravel and the recommended speed limit from then on is 40km (24.9 miles) per hour. The main entrance to Sanbona Wildlife Reserve is 7km (4.3 miles) where guests will be welcomed.
By Air
Sanbona Wildlife Reserve is equipped with a private landing strip near the Bellair Dam. Air charters can be arranged with registered charter companies or private aircraft with overnight guests are welcome. Prior arrangements must be made with Sanbona Wildlife Reserve Management.