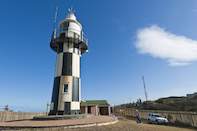 © Roger de la Harpe
Situated on the tropical south coast of KwaZulu-Natal, Port Shepstone is the largest town on this stretch of coastline...
An old steam train travels through indigenous forests and traditional villages of this beautiful KwaZulu-Natal area. Visitors will find relaxation at wonderful
white beaches and spectacular scenery
, for example at the Oribi Gorge. Enjoy various outdoor activities like the world's highest abseil or different water sports opportunities.
This KwaZulu-Natal Town was originally founded in 1867 when marble deposits were discovered near the mouth, on both sides of the Mzimkulu River.
A harbour for marine trade
was built after the river bed was opened up.
Regular trade started up between Durban and Port Shepstone from May 1880 and the main exports consisted of
marble slabs, sugar and lime
. In 1882 Norwegian settlers were brought in to farm the surrounding area. Marine trade continued from this KwaZulu-Natal town, but with the final advent of the much anticipated railway line in 1901, the harbour was used less and less and eventually the river silt built up again, making port entry here impossible.
More settlers of mixed origin arrived to boost the economy and this town has now become the administrative, commercial, distribution and transport centre of the South Coast. Port Shepstone has over the years also become a
popular South African tourist destination
with many attractionsand amenities available.
Visitors can investigate the fascinating history of this South African area at the local
Museum carrying a maritime theme
which has a number of exhibits. Also of interest at the seaside are the lighthouse buildings. On the edge of this KwaZulu-Natal town is a charming church that is the cultural and social focus of the Norwegian settler's descendants.Port Shepstone has excellent beaches and warm waters which have abundant marine life, making this Kwa-Zulu Natal Town in South Africa the
ideal spot for scuba diving
and
snorkelling, swimming, surfing and fishing
amongst other adrenalin sports like ski-boating and jet-skiing. It is also possible to swim with dolphins and watch the whales that visit this coast.
The
Mzimkulu River
which flows down to sea, meaning 'home of all rivers', is the largest of many that criss-cross this coastline and a factor that contributed to the time it took to build the railway line from Durban to Port Shepstone.
Today, leisurely boat trips can be enjoyed cruising up and down the river whilst admiring the scenery and wildlife. Other activities that are offered here include,
river rafting, canoeing, boating, windsurfing
and waterskiing. This town in KwaZulu-Natal has also a number of excellent
nature reserves with wildlife
such as Leopards, Baboons, antelope and exquisite bird life.
A delightful feature of Port Shepstone is the
Banana Express
; a steam train which travels inland through indigenous forests, sugar cane fields and green hills, dotted with traditional villages, visitors on-board will enjoy the relaxation and panoramic views.
Along the Mzimkulu River, further inland is
the awesome Oribi Gorge
. This 24km (15 miles) slice in the earth has spectacular rock formations and Lehrs Falls. Boasting the worlds highest commercial abseil and fantastic hiking and of course wonderful scenery, it is well worth a visit.