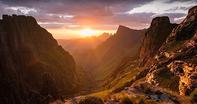 The Drakensberg is located in the KwaZulu-Natal Province of South Africa, and is one of the province's two heritage sites. This scenic destination forms part of the spectacular Drakensberg Mountains.
Drakensberg accommodation can be accessed by scenic road safaris and air transfers.
The Drakensberg can be divided into five sections with smaller towns located in its foothills - Bergville, Northern Drakensberg, Winterton and Central Drakensberg, Himeville, Southern Drakensberg, East Griqualand and uMzimkhulu. The area is beautiful year-round and the morning dew on the peaks is heavenly.
During summer, the area experiences dramatic thunderstorms and winter months see snow-topped mountain peaks. The Drakensberg is the perfect venue for adrenaline activities, and its scenic views make it even more memorable.
Drakensberg accommodation in KwaZulu-Natal is offered at luxury lodges. Exciting activities in Drakensberg include exploring caves and viewing rock art, helicopter flights, white water rafting and hiking.
Stay at Drakensberg accommodation hotels, resorts and country lodges.