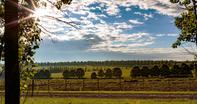 The Natal Midlands is located between Pietermaritzburg and the Drakensberg in the Kwazulu-Natal province of South Africa.
These scenic Midlands Meander routes take you amidst the natural beauty of the province to experience an abundance of outdoor activities while appreciating the artistic talents of the locals. Towns include Howick, Merrivale, Hilton, Lions River, Dargle, Lidgetton, Balgowan, Nottingham Road, Rosetta and Mooi River.
The Natal Midlands has become synonymous with its excellent arts and crafts, as it was founded on a popular exhibition and market that took place here. The Natal Midlands offers unique art, culture and craftsmanship amidst the beautiful countryside.
Arts and crafts are not the Natal Midlands' only appeal, the numerous mountain valleys formed in the area also make it ideal for relaxing water and outdoor activities. The dams and streams make fishing a prime activity in the area. Other activities include hiking, biking, golfing, horse riding and visiting the nearby wildlife reserves.
The Natal Midlands has something fun for the whole family to enjoy, making it a great holiday destination all through the year. The beautiful surroundings also make it a photographer's paradise, while its secluded location makes it perfect for special events and occasions. The Natal Midlands is definitely an off-the-road getaway worth discovering.
Discover Natal Midlands Hotels in KwaZulu-Natal.