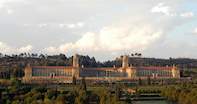 Union buildings in Pretoria.
Pretoria is situated in Gauteng Province in South Africa and is the administrative capital, one of the three capital cities, with Bloemfontein and Cape Town being the other two.
Pretoria is well known for its thousands of Jacaranda trees planted in and around the city that gives the streets a purple haze in October and November. It has large suburbs with old houses.
Places of interest in Pretoria are The Voortrekker Monument, Union Buildings, Church Square, Kruger House, Freedom Park, Transvaal Museum, Mapungubwe museum and Ditsong National Museum of Cultural History.
Also of interest are the National Zoological Gardens, Pretoria National Botanical Garden, Rietvlei Nature Reserve, Wonderboom Nature Reserve and the Groenkloof Nature Reserve. There are a variety of excellent restaurants with exceptional food in Pretoria.
The Pretoria Art Museum is home to a vast collection of local artworks that is worth seeing. The Sunday Morning Concerts at the State Theatre as well as food markets are interesting to see and worth it. Pretoria accommodation consists of hotels, boutique hotels, lodges and guest houses.
Stay at Pretoria boutique hotels and country estates in Gauteng