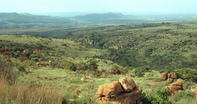 © David Fleminger
Magaliesberg mountains.
Located west of the bustling cities of Johannesburg and Pretoria, Magaliesburg in Gauteng, South Africa, provides the ideal relaxing getaway to escape from the big city life.
Steeped in natural beauty, amidst rolling mountains and surrounded by lush valleys and rivers, Magaliesburg is a great spot to reconnect with the great outdoors.
Magaliesburg's ideal temperatures are due to the surrounding Magaliesberg Mountain range which has created the ideal environment for nature to thrive within it. From mountain climbing, and horse riding and an abundance of water-based activities, Magaliesburg offers some of the best leisure activities for all ages and tastes while being surrounded by beautiful scenery.
The Hartbeespoort Dam is also one of the town's defining features, with plenty of river cruises and campsites along its banks. Enjoy the beauty of this beautiful retreat, defined by its rich natural environment and history.
See Magaliesburg hotels in Gauteng