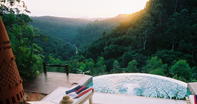 The town of Sabie is located east of Johannesburg and just 64 km from the Kruger National Park in South Africa. The town lies in a valley of the Drakensberg mountains, in Mpumalanga province.
The area is well known for forestation as well as incredible waterfalls, rocky hillsides and diverse grasslands.
Sabie offers a diverse variety of flora and fauna, as well as many of the larger mammal species. The highly elusive black leopard is sighted by the privileged few. There are more than 20 Natural Heritage sites within an hour's drive of Sabie town.
Sabie is 1000 meters above sea level with summer rains between October and April. Thunderstorms occur rarely and rain is normally soft and penetrating. The summer season is hot and in the winter there is occasionally light frost. Discover the natural beauty of the Drakensberg escarpment with Sabie as your base.
Stay at Sabie accommodation in Mpumalanga.