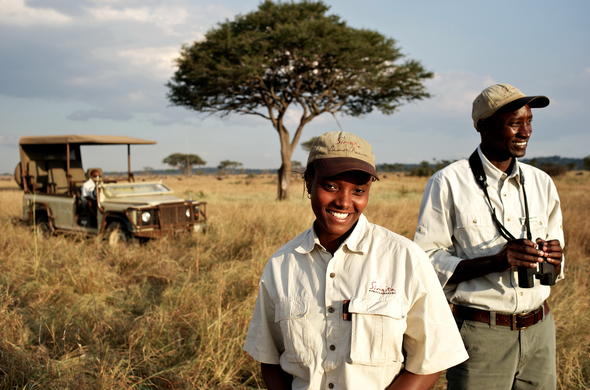 What is the typical group size of the tours and safaris?
At lodges in Tanzania the group sizes are restricted for up to 30 people maximum. The lodges are small and exclusive and most only accommodate 12 to 16 guests at a time. The hotels in the cities can accommodate up 150 to 200 people at a time. For large conferences, a number of hotels can be used to take groups larger than 200 people. For tours and safaris, the groups range from 8 people to 25 people depending on the trip. For Mount Kilimanjaro climbs, the groups are a bit smaller whereas safari overlands will generally have larger groups.
What is the General Fitness Level of Tours and Safaris?
No real fitness requirement is needed for Tanzania, as long as you can walk with ease. Bush walks are not that hard, but if you are going to do a walking safari for a few days then you need be quite fit. Alternatively, you can enjoy your safari as leisure with horseback riding and game drives in Land Rovers. For the Kilimanjaro climb, you will walk 3 to 6 hours a day, so a good fitness level is required.
What kind of clothes should I pack for my trip to Tanzania?
Make sure to check the seasons before coming to Tanzania. Light and neutral clothing is advised. Bring long pants and sweaters to keep you covered at night and out of the mosquito's way. Please note that while you are out on the street or at one of the beaches you should not wear tight, revealing or skimpy clothing. At the more upmarket hotels you can wear a bathing suit. Men should not walk around without t-shirts on. Women must not wear mini-skirts or leg revealing clothing. To do so would insult the people.
What should I pack?
Light cotton trousers
Cotton shorts
Light cotton shirts (long and short sleeved)
Comfortable walking shoes
Sandals
Underwear
Shower-proof rain jacket/windbreaker
Sunhat
Insect repellent
Small torch
Bathing suit
Suntan lotion
Sunglasses
Camera (telephoto lens recommended)
Binoculars
For winter, pack an extra
Warm jacket
Woollen hat
Scarf and gloves