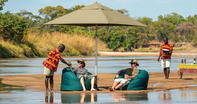 A Relaxing holiday in Africa for those craving some rest and relaxation. Options include Beach, Spa, Golf, Food and Wine, Romance, Riverside or just holidays where you can chill out.
Take a deep breath in and exhale, while the sweet aromas of nature's delights surround you as you watch the deep red African sun setting over the horizon. The clean, fresh unpolluted air of the African bush has an overwhelming effect on all those who venture into it. Its untamed land only inhabited by the natural cries and cycle of life, create one of the world's most enchanting lullabies to soothe the weary soul. A relaxing holiday in the African bush is an experience that will leave you rejuvenated and ready to take on life with a new replenished force.
Whether you spend your days reading above the steep clifftops overlooking the grazing plains, an escape into the heart of Africa will leave you with a newfound respect for life on Earth. There are many amazing destinations to unwind across the continent.
Sip a well-prepared cocktail in the bush, unwind with a massage or enjoy a relaxing swim in one of the many exotic beaches along the African coastlines. A stay in the African wilderness always touches the very heart of every visitor, as you tune into your natural surrounds and switch off from daily life.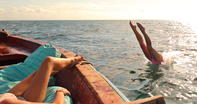 Relax on the warm white sands, as you listen to the soothing waves crash gently in at one of the many dreamy beach destinations on offer. From private beaches and luxurious island resorts, guests can indulge in one of the many facilities available such as a spa, sunset cruises and watersports, while getting much needed rest. View relaxing
Beach holiday in Africa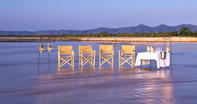 Enjoy the tranquility and wild flower scents of the African bush that linger in the air at dusk and dawn while spending time with that special someone. Do something unique and have an authentic bushveld wedding surrounded by nature. Honeymooners can discover a new world together in the wild or spend a night under the starry night sky surrounded by the peace of the bushveld. View
Romantic Holiday in Africa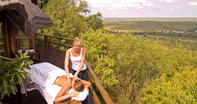 Nothing beats some much needed TLC in the trusting and healing hands of a well-trained masseuse. Experience the ultimate spa session surrounded by a soothing sea breeze or by the sounds of chirping birdlife bustling in the bushveld. View
Relaxing Spa Holiday in Africa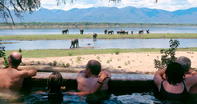 Enjoy a stay alongside one of the many mighty river deltas or tranquil drinking pools in the bushveld. Take a slow boat cruise, go canoeing in a traditional rowboat or enjoy sundowners along the river. Catch beautiful reflections of the sunset and sunrise as buffalo, antelope, giraffe and various game sip on the delightful cool waters at the end of the day. View
Relaxing Riverside Holiday in Africa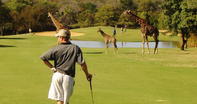 Get your swing on as you take on some of the most beautiful golf courses in the world. Aim for that hole in one as you watch the setting sun and spot some giraffes, elephants and various bush buck walk along the course for a nibble from the delicious vegetation surrounding you. View
Golf Holiday in Africa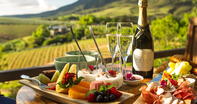 Detox and unwind with offerings of superb cuisine inspired by local dishes. Drink the finest South African wines at the best Cape Winelands wine estates. Fresh ingredients grown and caught from the fertile lands and seas of Africa are used to serve the finest dishes. Dine before the most majestic landscapes while you feed your mind, body and soul. View
Food and Wine Holiday in the Cape Winelands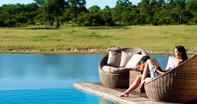 For travellers looking to simply escape and relax in the comforts of a home away from home, you will be sure to find plenty of accommodation options. Whether you search for a location across the country or a few hours away, this relaxation holiday will provide you with the best care to alleviate stress, tension and burn out. There are numerous getaway options that will help you unwind from the daily grind and pressures of deadlines. View
Chill Out Travel Destinations in Africa