Tanzania Travel Guide to Serengeti National Park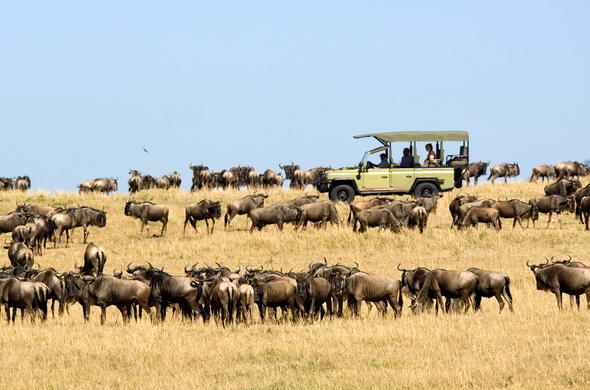 The Serengeti is the largest National Park in Tanzania, and one of Africa's premier game parks.
Serengeti Safari Highlights
the Great Migration
, post card Africa, balloon safari
Serengeti Safari Activities
Game drives, cultural interpretations [Maasai], trips to Lake Victoria, balloon safari over the Serengeti National Park.The Serengeti plains are the setting for the most dramatic wildlife spectacle on the planet. Known as the 'Greatest Show on Earth' the wildebeest migration sees more than a million wildebeest, zebras and gazelles in their great circular migration across the plains and acacia woodlands. Huge columns of advancing zebras and ungainly wildebeest stretch as far as the eye can see, and lions and hyenas lie in wait all along the route.Strategically placed safari lodges all over the Serengeti take advantage of the huge numbers of animals passing by at certain times of the year. Each area of the Serengeti does however have resident animals that don't migrate as such, allowing an
exceptional year round safari
experience.
Of the Migration and the Maasai
The
Serengeti migration
is driven by the forces of nature, the need to find water and better grazing. 1.5 million wildebeest, 300,000 Thomson's gazelle and 250,000 zebras, munch and grunt their way around the Serengeti in a never ending circuit.Serengeti, meaning 'endless plains' in the Maasai language has large rock 'kopjes' dotting the grasslands. These islands of rock are home to their own wildlife communities with cheetah, leopard, and rock hyrax, to name a few.
Everywhere you look there is life
in one form or another, all following time-ingrained cycles.The Serengeti is historically Maasai land and understanding how communities live alongside wild animals, will enrich your safari experience. Most lodges host cultural talks and
Maasai dance
displays, at which you will be totally amazed how the warriors jump straight up as if on springs.
Serengeti National Park Safari Lodges
See Serengeti accommodation options below.