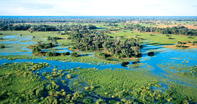 The magnificent Okavango Delta in the north of Botswana is a large inland delta. The Okavango River is the only perennial river in Africa the flows eastward and do not reach the ocean.
The Okavango Delta is one of the largest freshwater wetlands that is south of the equator and consists of more than 150 000 islands that differ from several metres to more than 10 km in size when it is in flood.
The source of the Okavango river is in the Angola highlands and its seasonal flooding reaches the delta in Botswana between March and July. This is great when migrations of wildlife come from the dry inland of Botswana.
The major activity on the delta is to experience a guided game viewing from a mokoro (traditional dug out of a tree trunk) canoe. The delta is a fantastic area for wildlife and it is also a UNESCO World Heritage Site and the Moremi Game Reserve help to protect it.
The dry oasis of the Okavango Delta is famous for its wildlife. This popular safari destination in Botswana has some excellent Okavango Delta safari lodges and camps.
See below for Okavango Delta safari lodges in Botswana.