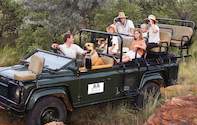 For families who want the exclusive use of a malaria-free safari lodge and game reserve, Jembisa offers a flexible family safari in South Africa with a range of exciting activities.
Luxurious but informal en-suite accommodation
Malaria-free destination for couples or families
Wonderful facilities, cuisine and professional game drives
Located in the Waterberg, just 3 hours from Johannesburg
Dreaming of an exclusive African holiday? This family-friendly safari lodge in South Africa is in the malaria-free Waterberg area of Limpopo. Guests have the reserve and Jembisa Bush Home all to themselves, it is fully staffed and visitors will be delighted with the attentive service and activities available.
With easy access from Johannesburg by road or air, Jembisa Bush Home, a Waterberg safari lodge in South Africa, has been a family home and now gives guests a relaxed and supremely comfortable space with some extra features such as a library, games room and tennis court. There is a saltwater pool that can be heated in the cooler months.
There are 5 beautifully appointed en-suite bedrooms and a children's bunk room. Children of all ages are welcome at Jembisa, with plenty of interesting and exciting tailor-made safari activities that are arranged for them. If required, the lodge can provide children's menus and earlier mealtimes.
Jembisa is a year-round destination. Guests have sole use of the lodge and game reserve, with attentive staff to see to everything. The cuisine is excellent and fresh produce comes from the organic kitchen garden. This family-friendly safari lodge is ideal for small groups, special occasions and bush weddings for up to 40 people.
The Waterberg is a plateau and a designated UNESCO Biosphere. This area is very scenic with rivers, cliffs, ravines, woodlands and savannah. The diverse wilderness is rich in wildlife, with plains game and predators as well as Hippo and Crocodile in parts of the river.
Children on Safari
Children of all ages are welcome at Jembisa and safari activities are tailor-made and age-appropriate. A nanny service is available for babies aged 0-2. Children aged 2-5 can play in the playroom, go on game drives with their parents or go on little walks in search of bugs and creatures.
Children on safari aged 6-10 years old can participate in bug hunting competitions, go on an African beading workshop, get an activity pack and more. From ages 11-15, kids can go on walking safaris and game drives, go river rapid swimming, mountain biking, try archery and more.