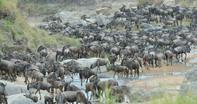 © Shem Compion
Masai Mara National Park is located southwest of Kenya, and is an area of 1510 square km. The park has endless plains, wonderful views and wildlife. It is named after the Maasai people who live in the area. It shares a common border with the Serengeti National Park in Tanzania.
For three months of the year, the Masai Mara Reserve is home to the world's greatest wildlife phenomenon, the Wildebeest Migration, which crosses its rolling grasslands from August to October each year. Several million animals take part in this epic journey through the Serengeti-Mara eco system, surging over the flood-swollen Mara river, attempting crocodile-infected crossing points, and shadowed by their padded foot predators. The Mara can be visited year round and has one of the highest concentrations of predator to prey ratio in Africa.
The reserve is inhabited by the legendary Maasai communities dwelling with their cherished cattle herds. A century of close association with the wildlife has resulted in a symbiotic relationship, where wildlife and people mix with one another on a daily basis.
The accommodation in the Masai Mara National Park consists of luxury tented camps and safari lodges. Activities in this park are mostly day and night game drives in which one can see the great migration in full force. You can also experience the culture of the Masai Mara and a hot air balloon ride with champagne breakfast included.
See below Masai Mara National Park safaris in Kenya.