National Parks of Kenya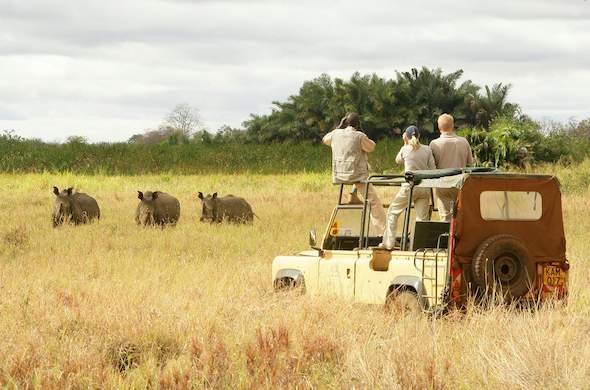 Tall grass, rainforest, volcanic hills and swamps offer the perfect habitat for a great variety of wildlife in Kenya's famous National Parks.
Black Rhino, Elephant, Buffalo, Lion, Leopard, Hippo or the Sitatunga antelope are some of the animals that found their dream home in parks like Tsavo, the biggest one in the country, or Amboseli. Lake Nakuru offers the magnificent view of thousands of flamingos and other birds. Get a great picture of Mount Kenya and also visit its surrounding National Park.
Meru National Park
One of the lesser known Parks, although it has had its moments in the past due to the efforts of Joy and George Adamson of Born Free fame. It is a lush area, with great views and
Mt Kenya in the background
. Located east of Meru, the Park experiences high rainfall and has dense jungle, tall grass and swamps this does make it harder to see game but there are plenty of animals. Security has been increased in the Park after some terrible incidents of poaching before now, but it is worth checking the conditions in advance of a planned visit.
Amboseli National Park
Amboseli in Kenya is the site of a magnificent view of the
snow capped peaks of Kilimanjaro
, this together with the image of a herd of Elephant strolling across in the foreground has been immortalised in peoples minds and draws a great many visitors who wish to capture it for themselves. Kilimanjaro is across the border in Tanzania and rises an impressive 5km (3 miles) over the plains this stunning view is best seen at sunrise and sunset.
Located 200km (124 miles) from Nairobi, the Park itself is not big, but visitors get the
best opportunity of seeing Black Rhino
and a huge variety of wildlife. The ideal spots to view game are at the swamps, the rest of the Park is flat and dusty - unfortunately due repeated off-road excursions by visitors the grasslands and fragile eco-system have suffered.
It is therefore in everyones interest to stay on the roads. Visitors can fly-in directly to Amboseli, or
self-drive via Namanga
on the A104 road, the last section of around 75km (47 miles) is uneven, but the roads are generally not bad.
Saiwa Swamp National Park
Covering 2km (1 mile) this delightful little Park is not far from Kitale and home to
the delicate Sitatunga antelope
, a swamp dweller able to walk on reed beds. The Park was created in order to provide protection for this creature. Visitors can only explore this park on foot via the footpaths and duck boards with care taken around the observation towers.
Other residents in the swamp are the attractive looking black and white Colobus Monkeys and
the De Brazza Monkeys
who are a little shy. Saiwa Park is located east of the Kitale-Kapenguria Road; there is a signpost and turnoff 15km (9 miles) from Kitale.
Kisite National Marine Park
For great snorkelling in this Park, some of the best in Kenya, visitors need to first check in with the Shimoni headquarters and then go off-shore south-east of Wasini Island.
Lake Nakuru National Park
This is the site of another incredible picture of life in East Africa, more than a
million pink Flamingos
and thousands of other birds, feeding along the shores of Lake Nakuru, a shallow soda lake. Visitors should note that conditions have to be just right for this incredible event to happen at all, otherwise the birds move on to other suitable sites, it would be best to check first.
The best vewing spot is Baboon Cliff; this gives good elevation and perspective. The Park covers about 200km (124 miles) with a variety of animals present including abundant
impala, also warthog and waterbuck
This really is a bird watchers heaven, but other game animals that might be seen are Buffalo, Lion, Leopard, Black Rhino, White Rhino and also Rothschild Giraffe and Eland.
Aberdare National Park
This Park was created in order to protect the moors of the Aberdare Mountains and its forested slopes. The Park is well nigh impenetrable and difficult to navigate due to muddy roads and high rainfall; only 4x4 vehicles can attempt it but not in the wet season as the Park is closed. Resident game include
Elephant, Rhino, Lion, Black Leopard
and a beautiful but rarely seen Bongo antelope, however the forest is dense and its difficult to view them.
The main attractions in the park are 2 up-market tree lodges; they are both raised above floodlit waterholes that have salt licks, one lodge in particular has
excellent nocturnal viewing
and visitors are summoned from their rooms if an unusual animal should come to the waterhole other than the Elephant, Rhino, Buffalo and Bushbuck often seen there. Transport is arranged exclusively to these lodges from the Aberdare Country Club and is the only way to get to them.
Sibiloi National Park
This Park is remote; visitors need 4x4 vehicles and should be completely self-sufficient and carry everything with them only water is available from the headquarters. The Park provides a protected area for a variety of animals, Crocodile,
Hippo, Cheetah, Grevys Zebra, Beisa Oryx
and Gerenuk. Past excavations and evidence of petrified tree trunks have revealed a pre-historic past. The Park is 100km (62 miles) north of Loiyangalani and enquiries should be made in advance with regard to possible bandit activity in the area.
Ruma National Park
Animals that live here include Roan antelope, Oribi, Rothschild Giraffe and Jacksons Hartebeest which are protected here, also present are Leopard and Cheetah. The Park is small and situated 25km (16 miles) south of Homa Bay.
Mount Elgon National Park
On the border between Kenya and Uganda, Mount Elgon is an extinct volcano. The main attractions here are the Elephant, the only place in the world where they will
go underground in search of salt
found in the caves on the slopes. Visitors are most likely to see the Elephant in the Kitum cave, but there are 2 others open to the public, Chepnyali and Mackingeny.
The Park has great potential for hiking activities; however Ugandan Elephant poachers and ethnic clashes have been a severe problem in the past, hikers can make enquiries about safety in advance if intending a visit.
Tsavo National Park
One of the largest National Parks in the world and certainly the biggest in Kenya, Tsavo has been divided in two (West and East) for ease of administration and covers altogether 21 000 square km. The Park has diverse landscapes, flora and fauna with 4 rivers and
volcanic hills, 1000 plant species
and 60 major mammal species. The incredible size of Tsavo has been both a blessing and a curse, with extreme poaching taking place in past years. The Park is located halfway between Nairobi and Mombasa.
Tsavo West has
4 of the Big Five
game animals and a good antelope population. It is the most developed with wonderful scenery. There are rolling volcanic landscapes, also tall grass and dense bush which may obscure the game. The 2 waterholes are the main attractions; the lodges are built around them and provide excellent opportunities for game viewing.
Over the highway that separates the Parks is Tsavo East, once famous for
fantastic herds of Elephants.
Again, poaching has been a severe problem, but now visitors can see around 50 or more fine Elephant which have wisely retreated to areas near the lodges for protection. Great herds of Buffalo numbering up to 1000 can also be seen here.
The Park has a remote air about it, less attractive to some visitors but the best game viewing is possible along the
waterways and at Kanderi swamp
, another good site is the Aruba Dam for Lion spotting, both places are close to the Voi Gate.
Mount Kenya National Park
Rising out of the Central Highlands to a height of 5 199 metres, the snow capped
peak of Mount Kenya
is a sight to behold. Africas 2nd highest mountain is sacred to the Kikuyu people; Mount Kenya together with the Aberdares forms The Central Highlands. The land is fertile and the climate very favourable, a pivotal factor in clashes in the past between greedy European settlers and the Kikuyu leading to the Mau Mau Rebellion.
Above the forest line, the National Park supports rainforests and bamboo thickets, higher up there is beautiful
moorland of heather and giant lobelia
. Buffalo, Elephant, monkeys, forest hog and antelope live in the forest. The 3 mountain peaks are popular for climbing, visitors who are quite fit can climb Point Lanana, but the other 2 are reserved for technically experienced mountaineers only. There is a good tar road running around the base of the mountain with various towns along it.
Lake Bogoria National Park
With spectacular scenery, Lake Bogoria is a shallow soda lake covering 30 square kilometres, located between Nakuru and Lake Baringo off the B4. The lakes waters cant support fish but are rich with salt, minerals and blue-green algae
perfect for Flamingos!
There are hot springs and steamy geysers, but due to the extreme temperatures visitors should be cautious and certainly not touch the water.
Marsabit National Park
A forested Mountain that rises up out of the desert like an oasis, Marsabit is an amazing place, but remote. The thick forest is the core of the Park, it is difficult to see the game, which is not normally found in northern Kenya, such as
Rhino, Elephant, Leopard, Lion, Buffalo
and Cheetah, also Grevys Zebra (endemic), reticulated Giraffe, Hyena, Wart Hog and antelope. There is also an abundance of rare birds.
A delightful place to camp is Lake Paradise; there are no facilities, but good bird watching opportunities as
plenty of water birds
favour the area. Getting to the Park is a bit tricky, it is best to fly in to Marsabit, as the road from Isiolo is very rough and bandits are common.
Nairobi National Park
A most accessible Park, being just a few kilometres from the city, it affords some unusual features visitors can
photograph Lion, Rhino, Giraffe
and Wildebeest with a background of city skyscrapers, also the Park is fenced on one side only which allows the animals to move freely to neighbouring Athi Plains, even though the city is so close.
Rhino can be seen here and
at least 500 bird species
have been spotted. Entrance to the Park is found at the Headquarters of Kenya Wildlife Services on Langata Road, no special vehicle is required, regular cars can be taken in.