Kenya Nature Reserves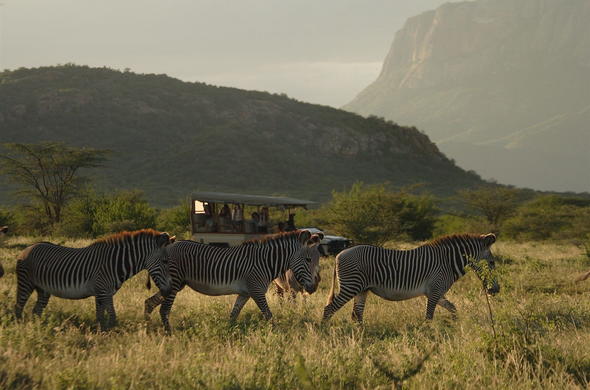 East Africa is world famous for the mass migration of Wildebeest and Zebra that happens every year and boasts the fascinating sight of thousands of animals roaming freely from Tanzania into Kenya.
Some Kenya Nature Reserves and game sanctuaries are situated near rivers and offer exciting views of crocodiles and elephants. Another highlight is a visit to the Shimba Hills National Reserve. This is the only place in whole Kenya where you can see the magnificent Sable antelope. Enjoy fascinating wildlife in beautiful surroundings with volcanic hills and grasslands.
Lewa Downs
Lewa Downs is a 16 000 hectare private ranch with black and white
Rhino, Elephant, Buffalo, Lion and Leopard
, Giraffe, Eland and Oryx. Cattle are still farmed here even though it is a wildlife sanctuary, the scenery is beautiful and there is a lovely stone and thatch lodge. Night drives are a speciality as there is an abundance of nocturnal creatures.
Masai Mara National Reserve
The Masai Mara National Reserve is home to the vast Serengeti Plains, the Big Five and the never-to-be-forgotten
mass migration of Wildebeest and Zebra
that happens every year. This reserve is ever popular and immortalised in films such as Out of Africa. The Mara has rolling grasslands and acacia savannah, sharing the Serengeti Plains with Tanzania. The animals roam freely between the two countries in search of food. Rich with game, visitors can see Elephant, Lion, Rhino, Buffalo and Leopard as well as the beautiful Cheetah in the reserve.
Other animals include, Spotted Hyena,
Black Backed Jackal, Hippo, Eland
and Giraffe. In fact, the Lion population is doing so well that they are seen often and appear to be quite used to vehicles. The migration happens every year in late July / August, when millions of Wildebeest and Zebra cross the Mara River into Kenya, its a gruesome end for thousands that get taken by predators and crocodiles at the crossing. The same journey happens again in reverse during October.
The Masai Mara has reserve status so that
the Maasai people
, who have occupied the area since the 17th century, can live and continue their way of life. The proud Maasai are herdsmen and warriors, living harmoniously amongst the wildlife as pastoralists and not hunters. Visitors may see a traditional dance performed by the men at some of the lodges.
Various shards of pottery and arrowheads can be found in the Lemek Valley in the north which was occupied by Neolithic man going back in time about 2 000 years. Visitors can find a wide range of
accommodation in the Masai Mara
or join an organised safari. Those choosing to self-drive can do so from Nairobi in about 6 hours, alternately flights are available from Nairobi Wilson Airport which takes about half an hour.
Salt Lick Game Sanctuary
Privately owned by the Hilton Hotel Group, this 11 000 hectare animal sanctuary has abundant game, much the same as would be found in Tsavo West. The Group runs
2 luxury safari lodges
and a luxury camp, one of the lodges is built on stilts with suspended walkways under which Elephants wander about, lots of game are attracted by the waterhole and salt lick. Alternately, the other lodge looks much like a fortress of Germanic origin.
Samburu National Reserve
Off the beaten track but very rewarding nonetheless, Samburu lies on the banks of the Ewaso Nyiro River. This shady treed setting is ideal for attracting
Elephant, Lion, Zebra and Giraffe
in from the savannah plains. Leopard can often be seen here too. Because it is not well known, the Reserve has escaped overcrowding from visitors. Also very close to Samburu is Buffalo Springs and Shaba National Reserves.
Shimba Hills National Reserve
Just 56km (35 miles) south of Mombasa, Shimba Hills makes and excellent day out for visitors who would like a break from the fabulous nearby beaches at Tiwi and Diani. A rare treat at Shimba Hills is the opportunity to see the
magnificent Sable antelope
this is the only place in Kenya to see these tall animals with their amazing horns.
The reserve consists of rolling jungle-covered hills and grassland. Lots of Elephant and
even Leopard can be seen
at the baited waterhole of the treetop lodge. This is also a good place to escape to cooler climes after the humidity of the coast.
Taita Hills
These craggy volcanic hills to the west of the Mombasa-Nairobi highway are really beautiful, there is plenty of game in the reserve and travellers can often see the animals from the main road between Voi and Taveta.
The Samburu Complex
This consists of 3 national reserves,
Samburu, Buffalo Springs and Shaba.
Located north of Isiola, the reserves are grouped along the Ewaso Nyiro River, covering an area of 300km (186 miles). Lesser known and off the traditional safari track, visitors can explore the tree lined river which flows all year, attracting a lot of game especially Elephant.
Other animals that can be seen in the Samburu Complex include
Buffalo, Lion, Cheetah and Leopard
, Warthogs, Reticulated Giraffe and Grevys Zebra, and Crocodiles are also possible. Birdlife is also prolific. Rhino sadly has been poached from here completely. Visitors will need to pay to enter each reserve even though they follow one another continuously.
The surrounding landscape encompasses desert scrub and savannah plains, the local Samburu herdsmen can often be seen going about their day dressed in bright red blankets and carrying spears.