Shimba Hills National Forest Reserve in Kenya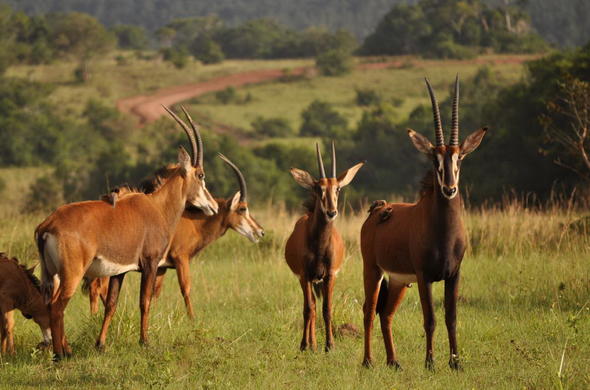 After a mere one hour drive from Kenya's Indian Ocean through undulating farming country and colourful villages, you arrive in the beautiful Shimba Hills. This stunning landscape mixes steep-sided valleys with rolling hills and pockets of rainforest.
The wildlife is not prolific but there are Elephants and the only Sable Antelope in Kenya. Sable are a chocolate-brown horse-like antelopes with magnificent sweeping sickle-shaped horns on both males and females.The forests of Shimba are resonant with exotic noises like tree frogs, insistent birds and nocturnal bush babies, while butterflies fill the air and lizards scuttle around. Shaded by these trees are Mukurumuji Tented Camp and Shimba Rainforest Lodges - both places are created to induce relaxation.Nearby are the Sheldrick Falls where the cool base pool invites a swim. Another excursion is to the Mwaluganje Elephant Sanctuary where you can stay at the small intimate tented camp with a restaurant overlooking an Elephant waterhole.The Mwaluganje Elephant Sanctuary opened in 1995, and is a good example of community-based conservation. A corridor was created along ancient Elephant paths to allow them to move between the Shimba Hills National Reserve and Mwalunganje Forest Reserve. The establishment of this reserve (surrounded by an electric fence), alleviated the conflict between man and Elephant to mutual benefit. All local people have a share in the project and an entrance fee is charged into the reserve.